Preclinical use of electrodiagnostic testing


Newsletter # 27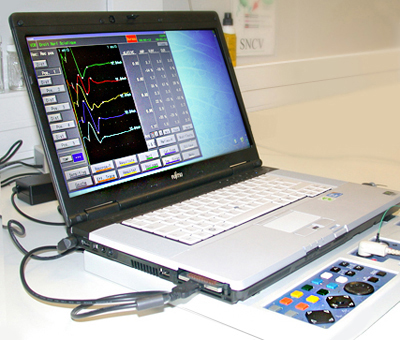 Animal models
Nerve conductions and electromyography studies (also called electrodiagnostic testing) are widely used clinical practices for the assessment of symptoms resulting from nerve injury or muscle pathology. This clinical tool is also very useful in preclinical practice for monitoring peripheral nerve or muscle function in various animal models of peripheral neuropathy or nerve injuries.
Disease models that implement electrodiagnostic testings :


Furthermore, combining electrodiagnostic findings with nerve histo-morphometry data is very instrumental in characterizing the development and the severity of peripheral nerve diseases.



Published articles that implement Neurofit's electrodiagnostic expertises:
Treatment with Actovegin® Improves Sensory Nerve Function and Pathology in Streptozotocin-Diabetic Rats via Mechanisms Involving Inhibition of PARP Activation.
Dieckmann A, Kriebel M, Andriambeloson E, Ziegler D, Elmlinger M. Exp Clin Endocrinol Diabetes. 2011.

Neuromuscular defects and breathing disorders in a new mouse model of spinal muscular atrophy.
Michaud M, Arnoux T, Bielli S, Durand E, Rotrou Y, Jablonka S, Robert F, Giraudon-Paoli M, Riessland M, Mattei MG, Andriambeloson E, Wirth B, Sendtner M, Gallego J, Pruss RM, Bordet T. Neurobiol Dis. 2010 Apr;38(1):125-35..
Specific antinociceptive activity of cholest-4-en-3-one, oxime (TRO19622) in experimental models of painful diabetic and chemotherapy-induced neuropathy.
Bordet T, Buisson B, Michaud M, Abitbol JL, Marchand F, Grist J, Andriambeloson E, Malcangio M, Pruss RM. J Pharmacol Exp Ther. 2008 Aug;326(2):623-32.

Interleukin-6 protects against paclitaxel, cisplatin and vincristine-induced neuropathies without impairing chemotherapeutic activity.
Callizot N, Andriambeloson E, Glass J, Revel M, Ferro P, Cirillo R, Vitte PA, Dreano M. Cancer Chemother Pharmacol. 2008 Nov;62(6):995-1007.
Identification and characterization of cholest-4-en-3-one, oxime (TRO19622), a novel drug candidate for amyotrophic lateral sclerosis.
Bordet T, Buisson B, Michaud M, Drouot C, Galéa P, Delaage P, Akentieva NP, Evers AS, Covey DF, Ostuni MA, Lacapère JJ, Massaad C, Schumacher M, Steidl EM, Maux D, Delaage M, Henderson CE, Pruss RM. J Pharmacol Exp Ther. 2007 Aug;322(2):709-20.

Functional overlap between ABCD1 (ALD) and ABCD2 (ALDR) transporters: a therapeutic target for X-adrenoleukodystrophy..
Pujol A, Ferrer I, Camps C, Metzger E, Hindelang C, Callizot N, Ruiz M, Pàmpols T, Giròs M, Mandel JL. Hum Mol Genet. 2004 Dec 1;13(23):2997-3006.
Interleukin-6 attenuates the development of experimental diabetes-related neuropathy..
Andriambeloson E, Baillet C, Vitte PA, Garotta G, Dreano M, Callizot N. Neuropathology. 2006 Feb;26(1):32-42.

Late onset neurological phenotype of the X-ALD gene inactivation in mice: a mouse model for adrenomyeloneuropathy.
Pujol A, Hindelang C, Callizot N, Bartsch U, Schachner M, Mandel JL. Hum Mol Genet. 2002 Mar 1;11(5):499-505.
Get in touch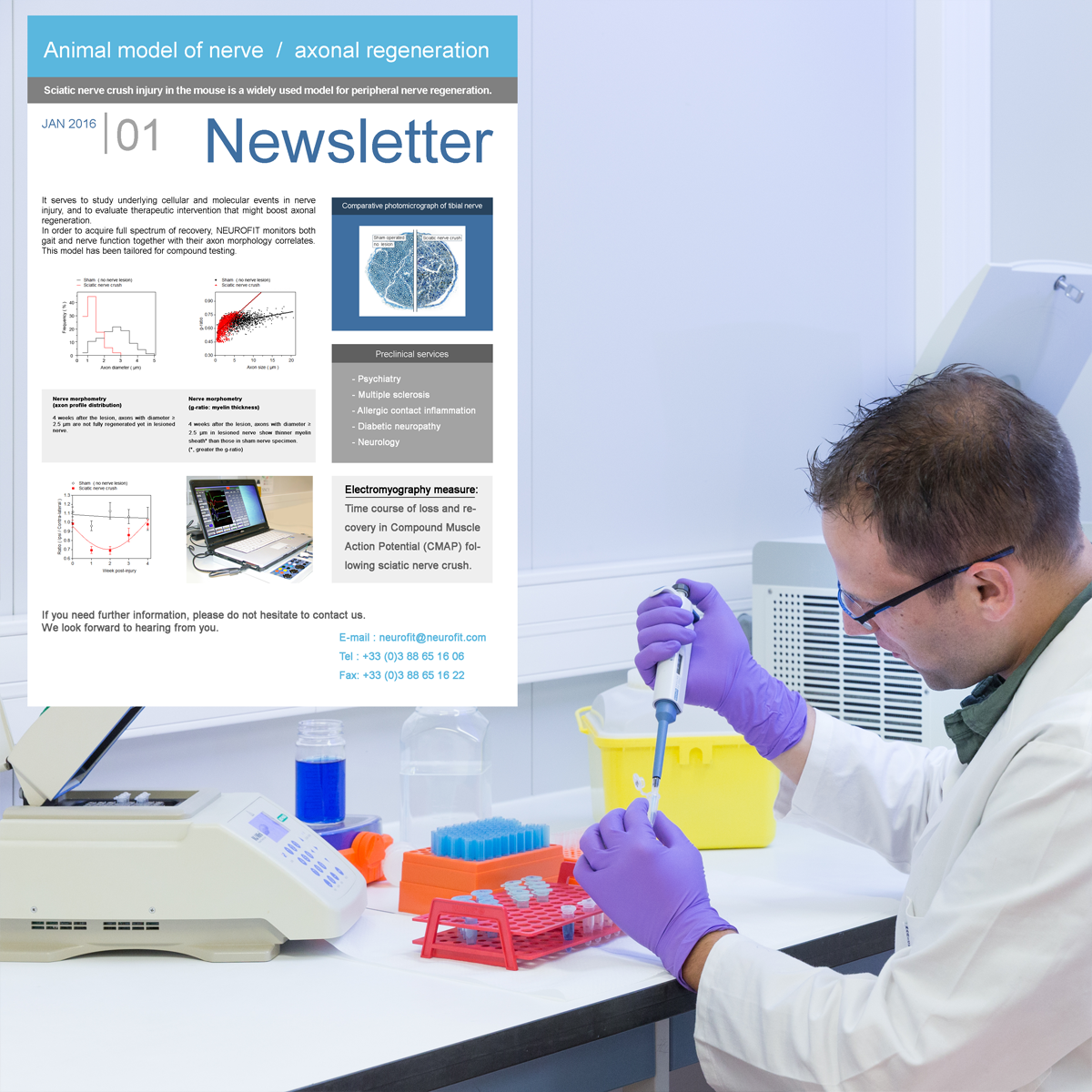 NEUROFIT offers a range of validated in vitro and in vivo screening tests for psychiatry and neurology.
If you need further information, please do not hesitate to contact us. Privacy Policy
On a regular basis we distribute newsletters with scientific information on our research services. If you wish to receive these, please sign up on our mailing list: